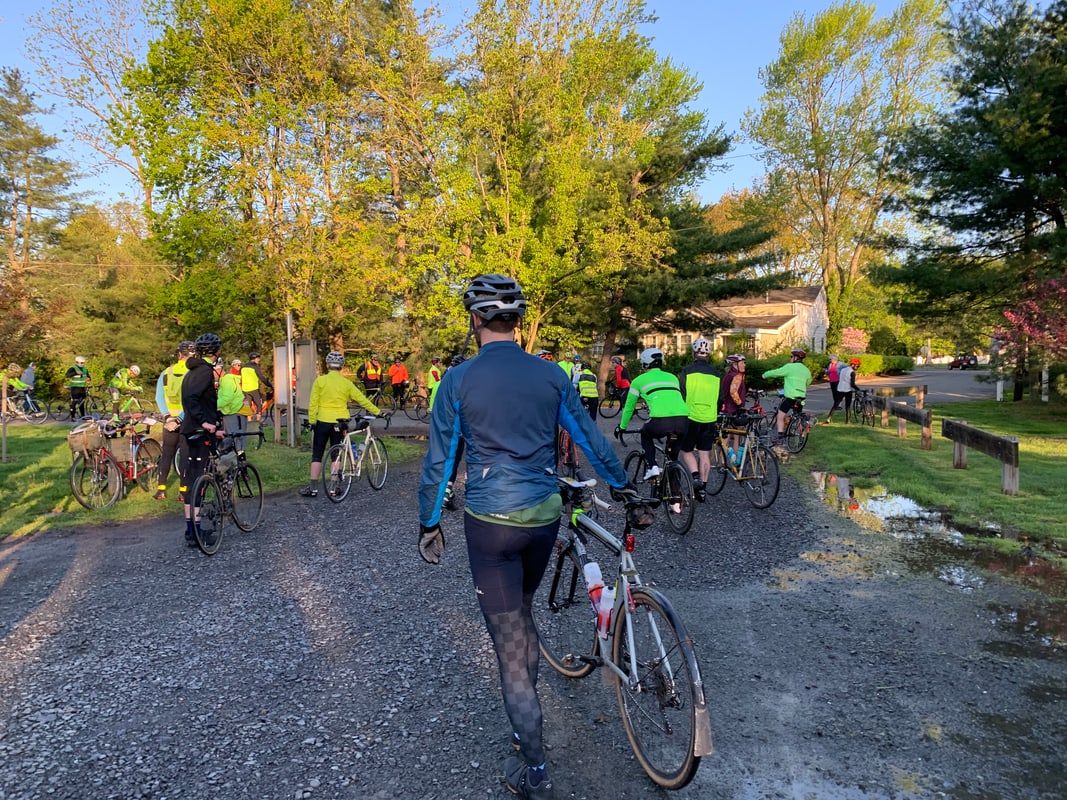 Even after I'd registered for the NJ Randonneurs' Cranbury 200k, I wasn't sure if I'd ride it. The logistics of getting out to New Jersey were a bit of pain. And the timing wasn't ideal, with friends visiting from out of town the day of the ride. But then I made the mistake of mentioning it to some fellow NYC/ADV folks and–somewhat to my surprise–a few of them signed up. And then I had to go.
Until the last minute I waffled between taking the early train (leaving Penn Station at 5:10, arriving at the station–eight miles from the 7 AM start–at 6:22) and heading out the night before. In the end I took the latter option, splitting a hotel room with Stuart, another randonneur. In the morning we stopped at Dunkin Donuts and ran into Ben, a first-time randonneur who had ridden out from Brooklyn the night before and stealth-camped. (He rode the whole brevet with his camping gear!).
There were seventy-something randonneurs at the start, a huge turnout. We had sunny skies and moderate temperatures, but the wind was on everyone's mind: all day we'd have sustained winds around 15-20mph, with gusts well above 30mph. For the first third of the ride heading toward the Jersey shore we'd have a tailwind; for the second third heading south along the beach we'd have crosswinds; and for the final third heading back inland, we'd be battling headwinds.
Aided by that tailwind our ride began smoothly. I fell in with a small group of half a dozen or so and together we were making good time and made it in and out of the first control quickly. Then, as we neared the coast and turned south, I flatted at the Keansburg Amusement Park. Replacing the tube was fairly quick (though I did have to go running after a few straps and rubber bands that were caught by the relentless wind), but now I was riding alone and making slower progress.
The next control was an info control, so I was able to get through it quickly, and I felt good heading into the next leg along with a few other riders–until I started to hear my tire rubbing against my fender. I pulled over to examine it and discovered that I had failed to seat it properly after fixing the earlier flat–in one section the bead was completely off the rim (and looking a little bit chewed-up), with the tube visible beneath! I felt lucky to have escaped a sidewall blowout that could have ended my ride. I was able to deflate, seat, and reinflate the tire with no further trouble.
Soon I found myself on the worst section of the ride, a nine-mile arrow-straight stretch of beachfront highway, with heavy traffic and nowhere to hide from the wind and the sun. After what seemed like forever we reached the control at the halfway point–Mamalukes pizza shop in Belmar. I don't eat pizza but I inhaled an order of fries. At this control I also ran into my fellow NYC/ADVers, one of whom was doing the ride on a beautiful all-chrome Austro-Daimler he'd finished building up only the night before the ride. Fortunately it was working perfectly.
My own bike was not doing as well. In addition to my flat and tire-seating issues, at some point in the previous segment my bottom bracket had begun making a horrible scraping sound. It would grow worse over the remainder of the ride, and it was loud enough that other riders began to comment. I guess I did ask a bit much of my bike over this past winter.
I lost more time at Mamalukes than I'd hoped to (the fries were cooked to order). Back on the road, the course quickly turned toward the west and into the wind. This section was a grind, and I was glad to arrive at the last control–a Wawa serving delicious and carb-laden soft pretzels. I probably spent more time at this control than I should have, but soon enough I was on my way again, grinding toward the finish. It was slow going, but eventually a trio of riders passed and invited me to hop on, which I did gratefully. Together we rode the last 15 miles or so to finish in 9 hours and 35 minutes–my fastest time yet on a 200k brevet or permanent (although that was to be expected given the flatness of this course).
My day wasn't quite over; after a quick half of a beer at the finish I headed out along with a few other riders to catch the 5:32 train back to New York. Naturally, this last eight miles or so was directly into the same headwind we'd been slogging through for the past fifty, but we couldn't take it too easy or we'd miss the train. We ended up making it with about five minutes to spare.
(route)